AntiGravity Yoga is the new craze that's hit town and it'll make you feel like you're in the Cirque du Soleil. Alright, perhaps not as hardcore but this fitness trend, invented by Christopher Harrison, is based on the concept of aerial arts combined with traditional yoga practices whilst you're suspended in a silk hammock. Think flying in the air a la Pink in her acrobatic back in 2010, albeit in a less raunchy outfit and you're closer to the ground. Sounds fun doesn't it? Now, here's your chance to burn some calories and get your body toned (who doesn't want to look like a million dollars on their wedding day?) with a free session at Bodywize Yoga Day Spa through this week's giveaway from Prettybooked. Bring a friend and see for yourselves how this form of workout can help you.
How to enter giveaway:
1. Tell us which charity will be receiving 50% of the proceeds from Beauty Week AntiGravity Yoga sessions by sending the answer to .
2. Giveaway ends Friday, 19th July at 11:59am HKT.
Terms and conditions:
A winner will be chosen randomly and contacted by email on Friday, 19th July 2013. No purchase of any kind is necessary to enter to win. Void where prohibited by law. WordPress clock will be the official time-keeping device for this giveaway. Only Hong Kong entries allowed. Only one (1) entry per person. The giveaway includes two evening sessions on 7th August 2013 – one for the winner and one for the winner's friend. Prettybooked and Bodywize Yoga Day Spa reserve the right to amend the terms and conditions.
**For more information on Hong Kong Beauty Week, check out Prettybooked. For tickets to various workshops throughout the week, purchase them at www.prettybooked.eventbrite.com**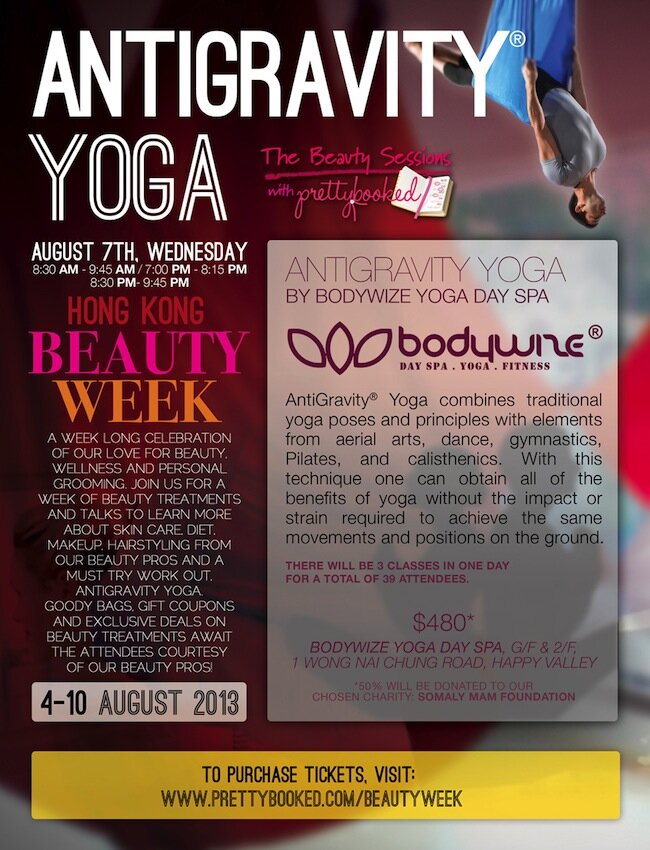 Photo credit: Prettybooked