There's no doubt that girls get more of a high (and obviously stress as well) from wedding planning and there's a tonne of girly ideas to pop the question to girlfriends if they'll be your bridesmaids or maid of honour. The men don't even think about how to approach the subject – most likely over a beer or even just a simple text – but that's not to say that guys can't have fun too. Often, they're worried that anything too cheesy or cliche and they'll risk ruining their macho-ness and the boys will never let them live it down. So why not liven it up a bit with some tongue in cheek invitations that will leave his pride in tact. Remember, be direct and less flowery; if you're going to get your man to send a bow tie as part of the invitation, the least you can do is dude it up. Please, for his sake.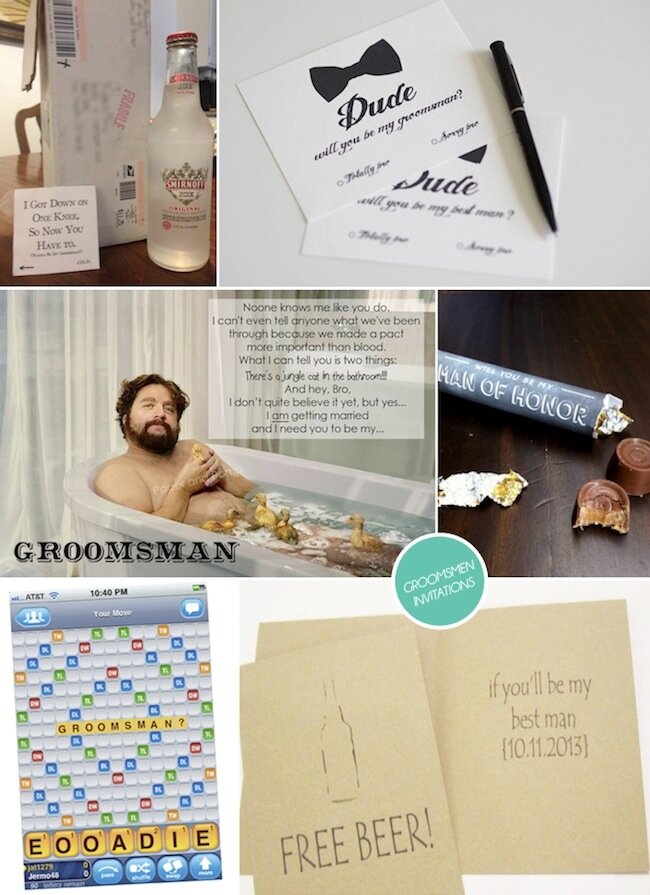 Photo credits (clockwise from top left): Colin Cowie Weddings, Wedding Chicks, Event Lucky, From The Heart Invites – Etsy, Em for Marvelous, Paper and Pomp – Etsy
And should your man be totally up for a laugh, he can even film a short video to send to his mates.