Wedding stationery. The one element of a wedding that many in Hong Kong skimp on. How many times have you received an invitation, opened it and all you see is a flimsy red card with gold hotstamp text (the text that's so shiny you can't even read it)? The ones with no thought put into it because it's from a generic template and you feel under underwhelmed by the couple's lack of effort. Listen up boys and girls, if you've got enough budget to fly all the way to Europe to take your pre-wedding photos, surely you've got the dough to splash out on some meaningful invites. Even if your budget doesn't allow you to be too funky with the design, there are still ways to incorporate your style and personality into the invite. Excite your guests and give them a glimpse of the fun to be had at your wedding. Use some imagination.
Earlier this week, I had the opportunity to meet the uber artistic Kalo of Kalo Make Art, and I must say, I have fallen in love with her original designs. From the moment we started chatting about her work, I could tell that she is passionate about creating bespoke invitations that tell a couple's story so that it's not merely informative but become a valuable keepsake. Kalo's approach is unique in that she spends time with her clients to find out about their story, their personalities and their upcoming wedding plans. She creates moodboards with different themes, be it vintage, rustic or carnival, so that couples can see what they like and allows her to visualise the styles they're looking for. Since it's custom-made, you'll not see your invitation anywhere else so rest assured, yours will stand out amongst the sea of cookie-cutter invitations out there.
Kalo is also an illustrator so she may well add some hand-drawn art to your invite. For one couple, she illustrated a replica of the vintage Swedish map that hung on the wall of their flat and transferred it to the invitation. She even drew the hotel that the guests were to stay in. The amount of detail that went into the illustrations is unparalleled. That's dedication for you.
Kalo's work goes beyond the wedding invitation. She designs a whole range of wedding stationery such as save the dates, escort cards, seating plans and even wax seal stamps for envelopes. She's also got an in-house collection of wedding stationery that are playful and pretty and can be customised to match your wedding colours so if you're not too bothered about telling a story, they still work great for any wedding. For bespoke designs, she advises couples to start the process at least 4-5 months before they intend to send out the invitations. Go on, you still have time before your winter wedding! You're in safe hands.
p.s. Kalo Make Art is on Localiiz, the one stop directory for your lifestyle needs.
Work of art.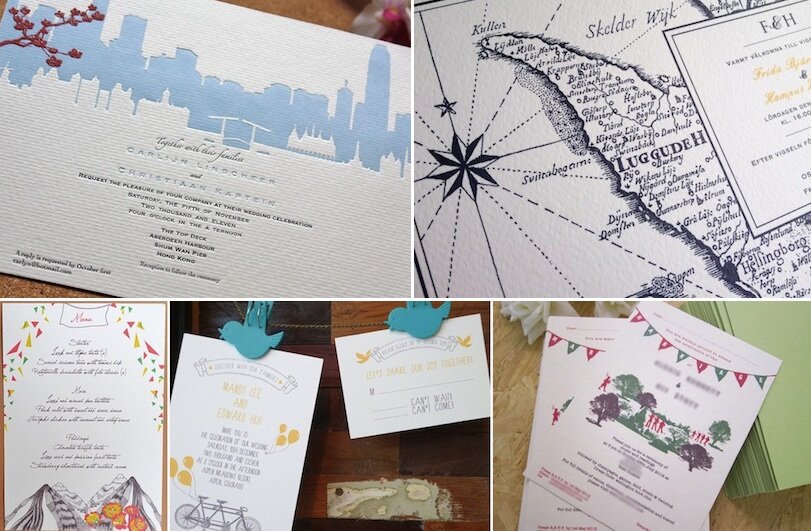 Photo credits: Kalo Make Art